COVID-19 business update: Alert Level 3, wage subsidy consent, vaccinations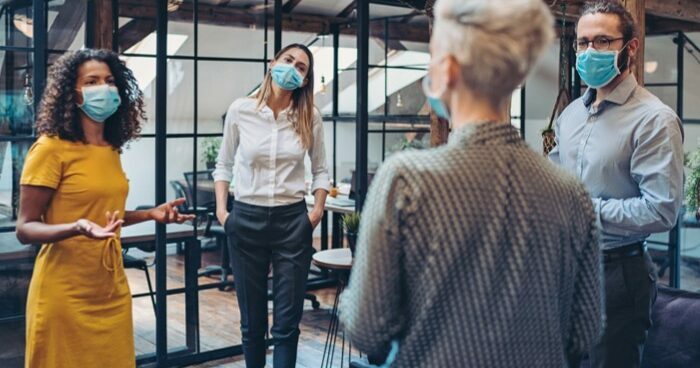 30 August 2021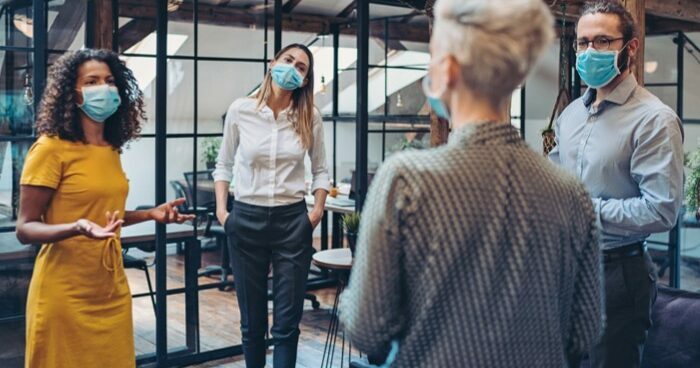 On Friday, 27 August, the Government announced that New Zealand would remain in lockdown until 11:59 pm on Tuesday 31 August 2021.  From this point, south of the Auckland boundary will move to Alert Level 3, while Auckland is likely to remain at Alert Level 4 for two further weeks – we expect to hear more on this soon.
Following this announcement, Langtonhudsonbutcher (LHB), our law partner in New Zealand, has shared some guidance for employers ahead of the split in Alert Levels across the country. Read on for a reminder of what Alert Level 3 previously meant for doing business, advice on gaining employee consent for the wage subsidy, and an update on vaccinations as a condition of employment.
Business at Alert Level 3
The Government will publish the legal basis for, and parameters of, Alert Level 3 over the coming days.  As a reminder, Alert Level 3 previously meant that:
1. Workers had to stay at home if they were sick, and if possible, they had to work from home.
2. Workplaces could only open if they were providing an essential service or:
Workers couldn't do their work from home;
Workplaces were "operating safely" (including the ability of staff to always keep at least one metre apart where practical);
Customers were not allowed on premises (with exceptions for supermarkets, dairies, petrol stations, pharmacies and permitted health services); and
Businesses could trade without physical contact with customers.
For example, this meant a retail store, bar, or café, could run a contactless click and collect service if customers didn't go onto the premises.
The Government has declared that this time, mask-wearing is mandatory for workers dealing with customers at Level 3.
3. If employees had to attend the workplace to carry out their work, they could only do so if reasonably practicable steps were taken to protect their and others' health and safety. Whether it was safe to have everyone at work or only some workers could return was an important consideration. Below are some of the actions that businesses took to protect the health and safety of employees:
reintroducing rigorous hygiene measures;
regular cleaning of common areas;
physical distancing, mask-wearing;
contact tracing for all visitors appropriate use of personal protective equipment (PPE);
encouraging "high-risk" people to stay at home where possible;
putting up physical barriers where necessary; and
sending people home who have cold or flu symptoms.
Business travel between regions in Alert Level 3 and Alert Level 4
This will be the first time New Zealand has been split between Alert Levels 4 and 3.  Travel from Alert Level 4 to Alert Level 3 locations for work purposes isn't permitted unless an individual is an essential worker and must travel for work.
Business Travel Documents from the Ministry of Business, Innovation and Employment (MBIE) for employees already working at Alert Level 4 will be available from Sunday 29 August 2021. Businesses are encouraged to apply early.  Learn more about the rules on travel limitations and how to apply for Business Travel Documents here.
Wage Subsidy applications – the importance of employee consent
To comply with the Government's Wage Subsidy declaration, employers must:
discuss their application with the employees named in their application; and
obtain the employees' consent (written if practicable) to their personal information being shared with MSD and other agencies, for particular purposes, under the application.
The consent requirements are exacting.  To fully comply with the obligations under the Wage Subsidy declaration, our view is:
Employers must try to obtain consent in writing in the first instance.
Consent must be obtained before applying for the Wage Subsidy.
Consent must be informed, so, the purposes for which employees' information will be used must be made clear.
If obtaining written consent isn't practicable, employers must be prepared to justify that position in an MSD audit, and some other form of unwritten positive response is required (for example, consent provided over the phone in a follow up call by the employer); and
Opt-out approaches are not compliant.
Many employers may have rushed into applying for the subsidy without obtaining their employees' consent or the permission they obtained from them may be inadequate.  In these cases, we recommend retrospectively obtaining proper consent, or improving the quality of permission provided.  Breach of the declaration could give rise to civil proceedings and prosecution for providing false or misleading information. Employers may also be obliged to return the Wage Subsidy funds received for an employee who didn't consent.
A failure to obtain adequate consent may also amount to a breach of the Privacy Act 2020.  However, this will depend on the purpose for which the information was collected from the employee in the first place (as advised to the employee at the time).  So, the risk of a breach of the Privacy Act should be considered on a case-by-case basis.
LHB has consent forms that employers can use before or after the Wage Subsidy has been applied for and can assist in reviewing the adequacy of consent already obtained.
Vaccinations as a condition of employment
 The Government is reporting record numbers of COVID-19 vaccinations since the start of the Delta variant outbreak last week.
By law, there are a limited number of roles that only vaccinated persons must carry out. Schedule 2 of the COVID-19 Public Health Response (Vaccinations) Order 2021 outlines these specific areas.  Broadly, these categories are managed isolation and managed quarantine workers, certain airport, aircrew and port workers, and workers who handle "affected items" from managed isolation and quarantine facilities, and specific aircraft and ships.
Outside these categories, WorkSafe takes the position that employers requiring a vaccinated worker to do a particular role must first have undertaken a risk assessment which considers:
The likelihood of workers being exposed to COVID-19 while performing the role; and
The potential consequences of that exposure on others and the business (such as community spread).
If, after undertaking that assessment, there's a compelling case for requiring the worker to be vaccinated, then an employer can proceed.  However, we recommend taking advice on a case-by-case basis.
Workplace Relations Minister, Michael Wood, recently suggested a distinction between requiring vaccinations for individuals already in employment, and applicants for new employment.  However, our view is that a risk assessment as above must still be undertaken before employers require new employees to be vaccinated.
LHB can help employers identify whether they have a good reason for roles to be carried out by vaccinated persons, and how to implement that requirement lawfully.  The risks of getting this wrong include breaches of the Privacy Act 2020, indirect discrimination under the Human Rights Act 1993 and Employment Relations Act 2000, and personal grievances.
As always, this update aims to provide an overview of the employment law implications relating to COVID-19 in New Zealand.  If you're unsure how to apply this guidance to your workplace, it's best to seek specific advice.
enableHR's law partners, LangtonHudsonButcher are an Auckland-based specialist employment law and litigation firm. They ensure every legal template, document, and checklist in enableHR is compliant. If you need any advice on the information provided in this blog, let us know. We'll put you in touch with a member of the LHB team.
Don't let changes to employment-related laws slow you down. In enableHR, every process, workflow and document is reviewed by employment law experts, so, you don't have to worry about compliance. Get in touch to see enableHR in action today!