Delta Alert Level 2: workplace requirements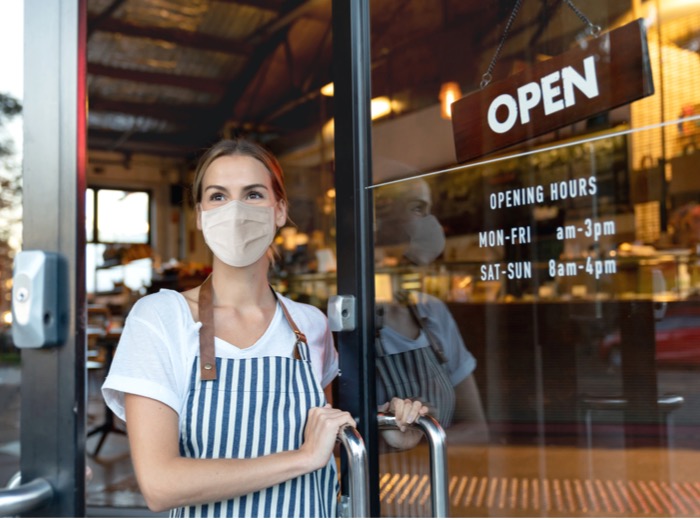 14 September 2021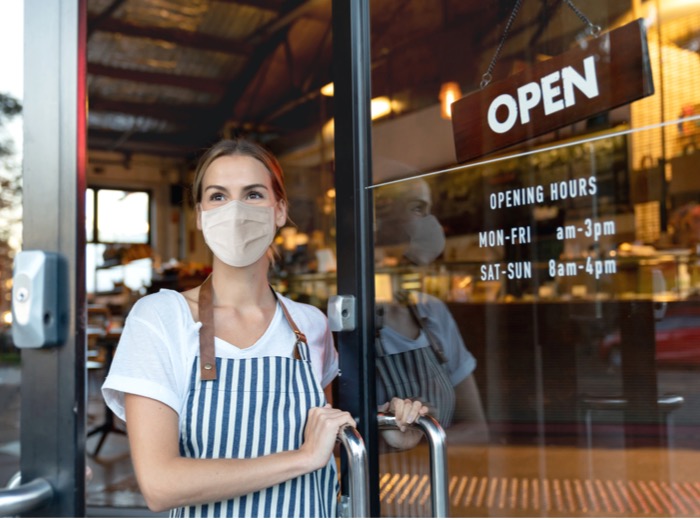 On Wednesday, 8 September, New Zealand (except for Auckland) woke up to Alert Level 2, albeit a slightly different looking Level 2 than the last time we were here. With the Delta variant in our midst, the Government has introduced tighter rules to reduce the risk of another outbreak. Here's a summary of the rules you need to follow to do business at the new Level 2.
Physical distancing
In workplaces that aren't open to the public, workers only need to keep one metre apart. In businesses where customers, clients and visitors may be present, the rule is two metres apart. The exception here is if a location already has a cap on the number of people allowed on the premises – such as cafes, restaurants, and bars – then customers and clients only need to keep 1 metre apart.
Group gathering limits
Group gatherings are now limited to 50 people in any defined indoor space and 100 in any defined outdoor space.
Compulsory face coverings
According to the COVID-19 website, your employees must wear face coverings at work if they are:
In the public-facing area of a court, tribunal, local or central government agency or social service provider;
Delivery drivers to residential addresses (when outside of their vehicle);
In a cafe, restaurant, bar, nightclub, soup kitchen or any other food or drink business;
In a close contact service, e.g. hairdressers, beauty salon, physiotherapist;
In a retail store;
In an indoor public facility, e.g. libraries, museums, gyms. Please note that workers at swimming pools do not need to wear a face-covering; and
Drivers of a taxi, ride-share vehicle, ferry, bus or train used for public transport (excluding school buses and the interisland ferries).
It's also mandatory for customers or visitors to wear a face mask or cover (unless they have an exemption) in the following situations:
When using public transport, aeroplanes (including in arrival and departure points such as train stations and bus stops), and in a taxi or ride-share vehicle;
When visiting a healthcare or aged care facility;
When inside retail businesses, such as supermarkets, pharmacies, shopping malls, indoor marketplaces, takeaway food stores, and public venues (e.g. museums and libraries); and
When visiting public areas within courts and tribunals, local and central government agencies, and social service providers with customer service counters.
Contact tracing
Businesses must display a QR code and provide an alternative contact tracing record. Record keeping for everyone over the age of 12 will become a requirement for busy places or events.
Level 2 business travel
Travel within Alert Level 2 regions is permitted, but travel between Alert Level 2 and 4 remains restricted. Only essential workers who must travel across a Level 4 border for work can do so. They must provide valid travel documents and will need to take a COVID-19 test every seven days. You can find more information here.
What else do businesses need to remember at Alert level 2?
Businesses must continue to ask everyone (workers, customers, visitors, etc.) with cold, flu or COVID-19 symptoms to stay away from their premises.
Hygiene promotion should be front and centre. Provide information sheets and posters that promote handwashing, discourage sharing of tools and encourage wiping down of shared spaces after use.
Employees should be involved with Health & Safety planning to mitigate the risk of COVID-19 transmission. Talk with employees to identify health risks or hazards and strategies to manage them. Some solutions you could consider include split shifts (to limit the number of people working in the office together), stringent cleaning measures and PPE.
COVID-19 Wage Subsidy August 2021 #2
Businesses that need to apply for the wage subsidy must reapply every fortnight. Applications are now open until 16 September 2021 for a further two-week Wage Subsidy: the 'Wage Subsidy August 2021 #2'. Eligible businesses must show at least a 40 per cent decline in their revenue from 31 August 2021 to 13 September 2021, owing to the Alert Level 3 and 4 lockdowns. All other eligibility criteria and obligations remain the same as the initial Wage Subsidy August 2021. We break down the eligibility criteria for financial support during COVID-19 here.
Work and Income have made it clear that businesses who have already applied for the first COVID-19 August Wage Subsidy need to wait until two weeks after your application before you can reapply for the second round. If you apply earlier, your application won't be accepted.
To reapply and review the updated Wage Subsidy #2 declaration, you should use this form on the Work and Income website. At this stage, we recommend you inform your employees and obtain their consent before you name them in the Wage Subsidy #2 application. If you need help to ensure you're fully complying with your employer obligations under the wage subsidy declaration, it's best to seek advice.
This update aims to provide an overview of the employment law requirements during COVID-19 Alert Level 2. If you're unsure how to apply this guidance to your workplace, we recommend you seek specific advice.
Don't let changes to employment-related laws slow you down. Every process, workflow and document inside of enableHR is reviewed by employment law experts, so you don't have to worry about compliance. Get in touch to see enableHR in action today!